How can I protect my employees hearing in high noise environments ?
Protect employees hearing in high noise environments with the Peltor Hearing Protection range of headsets and ear in devices.
As an employer, you have a duty of care to protect your staff and adhere to stringent health & safety laws – Even when controls and safe systems of work have been applied; some hazards might remain.
HSE Explain
Why is dealing with noise important?
Noise at work can cause hearing damage that is permanent and disabling. This can be gradual, from exposure to noise over time, but damage can also be caused by sudden, extremely loud, noises. The damage is disabling in that it can stop people from being able to understand speech, keep up with conversations or use the telephone.
Hearing loss is not the only problem. People may develop tinnitus (ringing, whistling, buzzing or humming in the ears), a distressing condition which can lead to disturbed sleep.
Noise at work can interfere with communications and make warnings harder to hear. It can also reduce a person's awareness of his or her surroundings. These factors can lead to safety risks – putting people at risk of injury or death.
The law
The Control of Noise at Work Regulations 2005 require employers to take action to prevent or reduce risks to health and safety from noise at work.
Hearing damage from noise at work
According to HSE, research estimates that over 2 million people are exposed to noise levels at work that may be harmful (Controlling Noise at Work – Guidance on the Control of Noise at Work Regulations 2005). Hearing damage is an invisible health effect, and it can often take years for an individual's hearing to degrade to the point at which they notice any issues. By this time, it is often too late, leaving the individual looking to protect what they have left (HSE).
Consequences of high noise workplaces
Difficulty communicating
Psychological effects – isolation
Employers Absenteeism due to ill health
Loss of productivity
Noise-Induced Hearing Loss and Tinnitus
General loss of wellbeing
Absenteeism due to ill health
Legal action
Hearing damage caused by exposure to loud noise can be difficult to understand and the effects are dependent on a number of factors which include:
Actual noise level – the higher the sound level the greater the risk of hearing damage
Duration of exposure i.e. how long a person is exposed to a hazardous noise level
Medical conditions – eg. history of repeated ear canal infection
Often it takes a prolonged period of exposure to loud noise before developing signs of permanent hearing damage, but sometimes this can occur when exposed to powerful impulse noise e.g. a very loud explosion. Given the above, it is important to monitor and protect those exposed to hazardous noise levels.
Detection
The first step in solving the challenge is to measure the noise levels facing your workers. 3M Detection Solutions make it easy to measure noise hazards, so you can select the appropriate protection for the job.  Personal noise dosimeters help Industrial Hygiene and Safety Professionals monitor noise exposure efficiently and provide tools to empower worker self-management of noise exposure. Intrinsically safe and data logging models are available. 
Peltor Hearing Protection Noise / Sound Detection Devices Options ( but not limited to)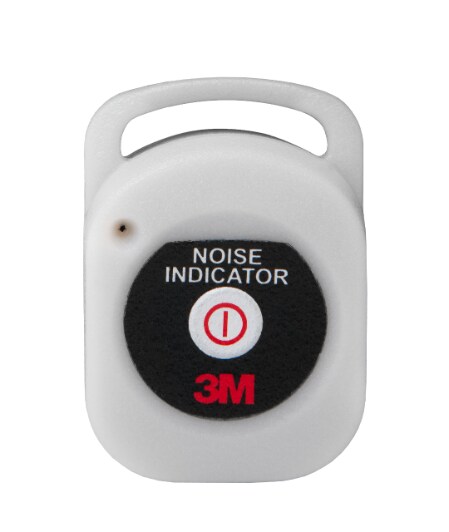 3M™ Noise Indicator, NI-100
One of the most affordable noise detection options available for monitoring noise levels, with a durable, small, lightweight design
Easy to use. Just clip the Noise Indicator to a shirt or jacket
To turn on, press and hold the button until a double green/red light flashes
Rechargeable battery that operates for up to 200 hours between charges
3M™ Sound Level Meter, SD-200
Compact, lightweight sound level meter designed for measurement of workplace noise levels
Offers an integration feature that computes the average sound pressure level
Simple, user-friendly interface
User selectable LED Alert screen provides a visual reference of sound levels with green, yellow and/or red LEDs
Rechargeable battery, with up to 50 hours between charges
Kit includes SD-200, USB cable and windscreen. DMS software not required.
A compact, lightweight sound level meter designed to accurately measure workplace noise levels.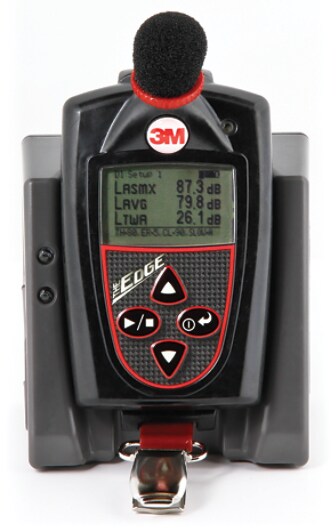 3M™ Edge 4 Personal Noise Dosimeter
Kit includes Edge 4 dosimeter with microphone, windscreen, calibrator adapter and storage case. Docking station and DMS software not included.
Rechargeable lithium polymer battery
Thin, contoured mount hugs the shoulder; compact frame offers superior comfort
The 3M™ Edge 4 Personal Noise Dosimeter offers advanced technology packaged in a cable-free, compact frame for a lighter, more ergonomic way to monitor noise levels.
What are your Peltor Hearing Protection options?
DCRS can offer a number of Peltor Hearing Protection solutions from 3M Peltor that can work as protection only, or in conjunction with your two-way radio system.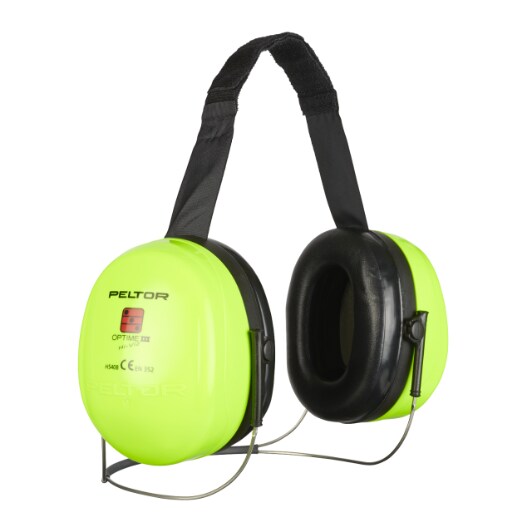 3M™ PELTOR™ Earmuffs
High performance Peltor Hearing Protection with varying decibel protection for use against light, medium or high industry noise for example, grounds maintenance or power drilling
Soft wide cushions help reduce pressure around the ears and improve comfort and wearability
Slim-line, dual moulded cups for improved compatibility with other personal protective equipment (PPE)
Electrically insulated wire headband
Large space inside cups helps reduce moisture heat build-up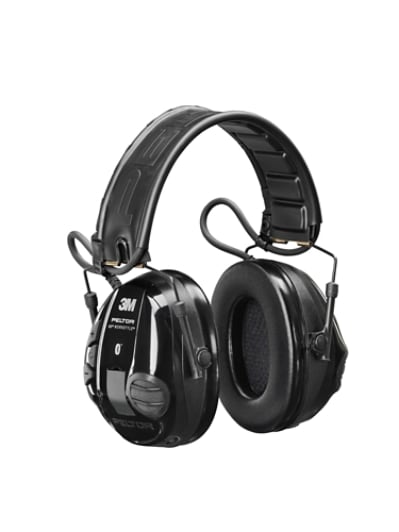 3M™ PELTOR™ Standard Headsets
Stay protected whilst taking calls wirelessly or listening to the radio – even in noisy environments
Level dependent function lets you hear ambient sound: conversation, machine sounds and warning signals
Listen to wireless calls and music with stereo Bluetooth®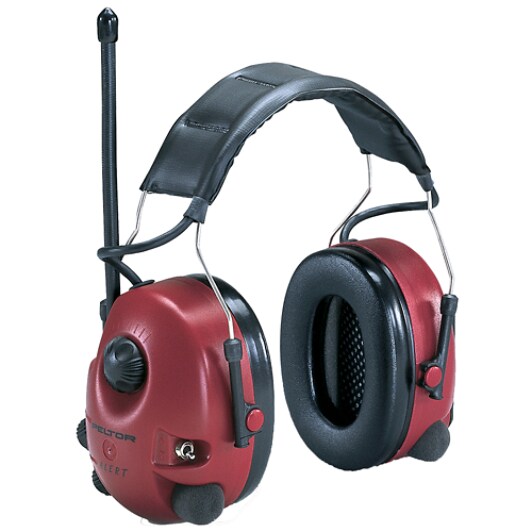 3M™ PELTOR™ FM Radio Headsets
Protect your hearing and listen to the radio – at the same time
Built-in level-dependent function lets wearers hear ambient sound, such as conversation, machine sounds and warning signals
Excellent FM-radio reception
3.5mm stereo audio input plug to connect to external devices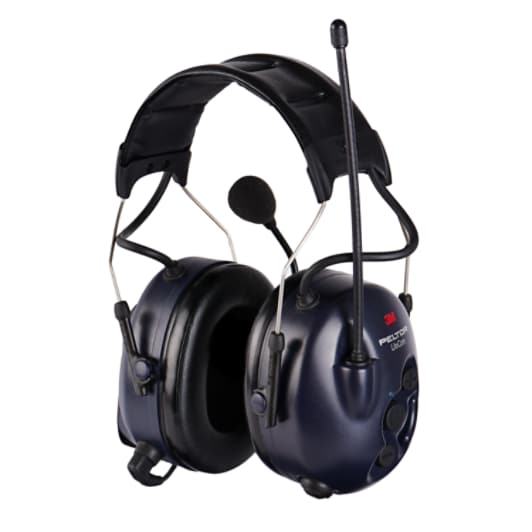 3M™ PELTOR™  Built-in Two-way Radio Headsets
High performance headset with built-in communication radio for "hands-free" short-range communications with other Peltor hearing protection LiteCom headsets and comms radio devices on the same frequency
38 subchannels allow users to communicate individually using the same channel
An auxiliary input also lets you connect a mobile phone or external com radio, regardless of the frequency
Integrated noise cancelling microphone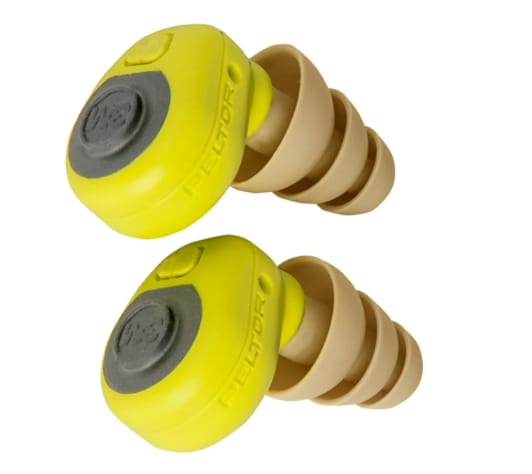 In-Ear Solutions – 3M™ PELTOR™ Level Dependent Earplug Kit
Peltor hearing protection earplugs that help protect your hearing and provide situational awareness
An intuitive one-button operation, turns the unit on, off and selects the volume settings
Charging contacts recharge the unit while in the case
Li-ion battery provides up to 16 hours of continuous operation
Innovative design helps protect microphone against water ingress
Compatible with Ultrafit ( SNR = 32 dB ), Torque (SNR = 38 dB), CCC-GRM-25 (SNR= 36 DB) ear tips
Employers have a duty of care to provide the correct provision of personal protective equipment (PPE) at work – Talk to DCRS today about the Peltor Hearing Protection range of headsets and ear in devices.
Sources: HSE and 3M Peltor